Talking helps: Why you should discuss college finances with your family and other support networks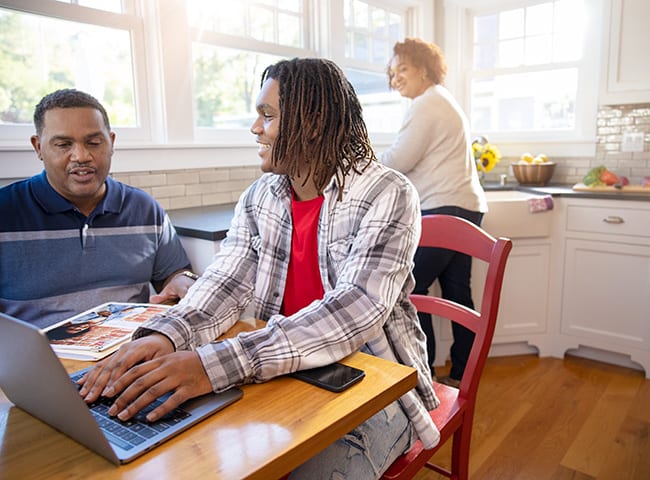 College is a big financial commitment, and calculating all the potential expenses can be a lot to do alone. As you plan to pay for college, talk to your family for guidance and support.
Attending college is a great investment in your future. But it can be expensive, too. You'll likely need help paying the full cost of college plus your living expenses while you're making progress toward your degree. Whether that help comes in the form of scholarships, loans, money from your parents, working part time or a combination of those, thinking about how you're going to pay thousands of dollars every year can be a big task.
Know that you are not alone in this journey. If you're concerned about the costs of going to college, reach out to people who have your back. That is most likely your family, but it may also include your friends, mentors, counselors, or campus resources.
Here are some tips to help you feel more confident when it comes to paying for college.
Talk it out
With average annual fees and tuition ranging from $10,740 for public in-state colleges to $38,070 for private institutions, it's no wonder going to college is a big financial decision. Make the choice just a little bit easier by creating a plan and talking it over with people you trust.
Students cite finances as the main reason for dropping out of college, so talking about paying for college should not be a one-and-done conversation with your family or support network. Schedule regular check-ins with them to make sure your, and their, financial situation hasn't changed. You could do this monthly when you review your budget.
Joshua Lachs, CEO of Moneythink, an educational nonprofit that provides college financial coaching, regularly works with high school students. He helps them understand college affordability and breaks down the financial barriers preventing them from enrolling or graduating with a degree. "For families, money is taboo, a huge anxiety point," he says. "Many students have communicated to us that they don't want to stress their parents out any more, so they just don't talk about affordability. They end up making these decisions without having those conversations with their parents."
And that can have damaging consequences down the road. If you don't get complete and accurate information before you make a decision, a school that seemed affordable upfront may suddenly feel like a stretch once you're enrolled and other expenses start adding up.
"We want students and families to understand that a college degree in the long term has a very high return on investment," Lachs says. "We want them to get into the most affordable option because we know that over the course of one's lifetime, college grads on average make about $1 million more than their high school peers, have better opportunities to save, better employment opportunities, more access to health care, housing … it's really an investment into their future."
To help ensure you're making a sound investment, you and your parents need to have open, ongoing, and detailed discussions about college expenses. These conversations can guide your research into which school is the best choice for your financial situation. And as your expenses change throughout your academic journey, keep up the conversation with your support network to help you stay on track.
Count on other costs
Tuition is just part of the equation — you also need to account for your overall cost of attendance. This number includes additional expenses outside of what your financial aid and scholarships cover, like books, personal care, a place to stay, and food. You'll need to factor those day-to-day expenses into your college plan.
Sit down with your family to create a list of any remaining expenses such as transportation; housing; and school, dorm, and medical supplies. Also, think about how you plan to handle emergency expenses. Estimate what those costs are, and create a budget to determine how they will be covered.
Creating and sticking to a budget can be the best approach to staying financially stable, and it sets the groundwork for a financially responsible future once you graduate. And doing it alongside your parents will help make the expenses more transparent for all.
Once you know your bottom-line, all-inclusive cost, discuss with your parents how you will cover any gaps. Students may assume family will help pay for any additional college or cost-of-living expenses, but that's not always the case.
Be very direct in discussing with your family what they're willing to contribute. Will they set up an emergency fund you can use? When is it OK to spend that fund? Will they give you a monthly allowance?
Now that you have your budget put together, you can easily discuss this with your parents line by line. This is where you and your family may need to choose some tradeoffs to reach that shared goal of a degree. Would changing whether you live at home, on campus, or off campus help make college less expensive? How about choosing a major where you're free to work on summer breaks, rather than one where you need to pay for summer school classes? What will you do if it takes more semesters than you thought to complete a degree?
If your parents can't provide additional support, look into work-study programs or part-time employment to provide additional income. You may even be able to find a job that allows you to work remotely!
Planning for everyday expenses, not just your tuition, can help keep you on budget and in control. 
Go beyond budgeting
If you've already created and are sticking to a budget, congratulations! You're already ahead of many of your peers. To make your budget work even better, be sure to take note of these money-saving strategies that might be easy to overlook.
Take advantage of campus perks. Schools will usually have free activities and entertainment for students, and you can often use your student ID to get discounts in select stores.
Additionally, consider if bringing a car to campus is the smartest financial move for you. Not only will you have to pay for gas, insurance, and parking passes, but you could also end up paying a lot more if your car ever has mechanical problems. Taking a bus, shuttle, or bike can help keep costs down.
You should also be aware of money considerations outside of campus. For example, if you plan to take out student loans, know what they entail. Before you sign on the dotted line, be sure you and your family fully understand the fine print: What does the loan cover? What are the interest and principal amounts? How much will your monthly payments be after you graduate? What conditions do you need meet to retain funding? Knowing the details of any financing you sign on to may help you down the road.
Nobody's perfect, and you may make mistakes. If you ever get into a financial bind, talk to your parents or guardians to create a plan to get you back on track.
Keep the conversation going
"Open and honest financial discussions between a student and their family are crucial," says Tom Benza, director of Financial Aid at Wake Forest University. "If the student and family are in a constant financial struggle because of the cost of the school, that anxiety and stress can have an impact on retention and timely graduation."
Having honest conversations about money throughout your college career may help keep you on track. But if you hit a few bumps along the way, you're not alone. 70% of college students reported being stressed about finances, and nearly 3 out of every 5 college students face some level of basic needs insecurity. Students of color are more likely to experience this.
So, don't be ashamed to talk to your parents and family or other support groups if you're struggling. Together, you may be able to work with your school to find solutions. You can start with these resources on paying for college, whether it's through scholarships, work-study, or other financing options.
College is an exciting time in your life; you meet new people, learn valuable skills, and create lifelong memories. The years you spend in school can be special. And when you talk with your family and those who can support you about how to pay for college, from initial conversations to creating a financial plan, you can make the most of your college experience.