Before you show up with the moving van, read these tips from someone who has firsthand experience in finding a home from far away.
Moving to a new city after college can be a challenge, especially when you haven't gotten a good feel for your new neighborhood yet. Even if you can manage a short trip to your future home, it's bound to be a whirlwind — and a visit doesn't guarantee a signed lease. You might leave with more questions than you arrived with.
Luckily, I've had some experience tracking down a new pad from afar. I've had two long-distance moves in my life: once to Dallas, Texas, and once to Los Angeles, California. Before moving to Dallas, I signed a lease based on what I saw on the Internet. Later, when I moved to Los Angeles, I stuffed my car with all my belongings and found a place on the fly — this process included hours of calls with leasing agents while making the 22-hour drive. Needless to say, I've got a few tips and tricks up my sleeve that may help with your apartment hunt.
Ask your friends and your employer
Tap into your circles. You may have a connection to someone in your new locale — whether it's a friend from college, a friend of a friend, or just a LinkedIn connection. This is the time to reach out and get unbiased information about good and bad neighborhoods in town. They can also tell you where to find housing within your price range.
If you have a job lined up, ask your employer. They'll likely be more than willing to share area recommendations, and they're probably more apt to suggest parts of town that allow for an easy, short commute.
Be candid with the leasing agent
If you have to hunt for your new apartment over the phone, be upfront with the leasing agent you speak to at different apartment complexes. Let them know your needs — everything from move-in timeframe to budget and commute. These are the first things you should discuss before continuing the conversation. Help them understand that you will need special attention throughout the duration of the leasing process. Ask for updated pictures, blueprints, a video tour, etc. If they want to rent to you, they'll provide you with everything you need.
Hit up social media
If you can't afford to hire a leasing agent, don't be afraid to hit up social media for area recommendations and roommate ads. After all, social media isn't just for posting selfies in your new office — it could also help land you a roommate, or better yet, friends. Sites like Roomster and SpareRoom will give you an idea of the types of apartments in your desired neighborhood, from price to quality to how far a Pad Thai takeout joint is from your new digs. These sites also allow you to talk and connect with real people who live in the neighborhood so you can get a better feel for the vibe.
Research, research, and more research
You are not the first person to move to your city. There are plenty of previously helpless transplants who want to share their wealth of knowledge. To learn more about the area, read reviews on websites such as Neighborhood Scout or Area Vibes. Online review sites can also offer telling information about apartment complexes, but take them with a grain of salt since you don't know the reviewer.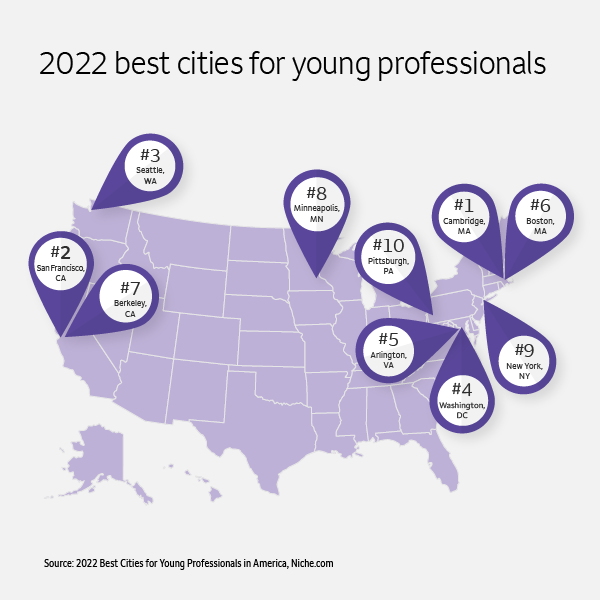 Check your credit score
Some landlords complete a tenant screening when you apply for an apartment, which typically runs a check for your criminal and credit history. Don't wait to find out if your credit history (and score) will hold you back from getting an apartment. If you're a Wells Fargo customer, you can check your FICO Credit Score for free.1 You can also pull a free credit report once a year to make sure there are no delinquencies or fraudulent activity under your name.
Have all your documents ready
If you're looking for apartments on the fly or if your quick visit is strictly dedicated to apartment hunting, come prepared to sign a lease. Have every single document on hand before you even step into the leasing office. Why? If you're in a city where apartments are on the market one hour and off the market the next, there won't be room for hesitation.
Here's what you may need:
Proof of employment
Social security card
A government-issued photo ID (like a driver's license)
Three to six months of bank statements
Your checkbook, although leasing agents may request a money order or cashier's check
Let a real estate agent do the legwork
If all else fails, there is no harm calling in help. Even if you don't utilize a real estate agent to find a place, you can at least pick their brain about renting in your new city. They can point you in the right direction, set up appointments, and even tour with you. A big bonus: landlords often shoulder the agent fee. If you're worried about tackling the apartment hunting process alone, this is a great way to find a place with little to no effort on your part.
Finally, one final pro tip: once you make your move, if you are a Wells Fargo customer, login to Card Settings. From there, you can quickly and easily see what utilities and services you regularly pay with your Wells Fargo accounts, and then update your mailing address with those providers. Happy apartment hunting!
Need to check your credit before making moves on a new apartment? Take a peek and access your FICO® Score through Wells Fargo Online®.