Just as no two schools are the same, neither are any two financial aid offers. Learning how to compare — and appeal, if needed — your award letters is key to selecting the school that matches your situation.
Choosing the right college is a big, and sometimes difficult, decision. You have many factors to consider during this important time. To ease your mind on the cost question, let's break down your financial aid award letters. Here, you'll learn how to compare college financial aid offers and appeal them if needed.
What is a financial aid award letter?
After you complete and submit your Free Application for Federal Student Aid (FAFSA) form, you will receive a Student Aid Report (SAR). Each school you applied to will use your SAR to evaluate your eligibility to receive financial assistance. Then, you will get a financial aid award letter from the school. It is usually included with the admission acceptance letter.
This document outlines the total price of attending that college or university and the various sources of funding you could access to pay for it. Those sources could include things like scholarships, grants, a work-study program, and student loan offers.
Read the letter carefully. Pay close attention to which aid is from scholarships or grants versus student loans, because you will need to pay back student loans after you graduate.
As you go through this process, don't be afraid to ask questions, but only ask qualified professionals, such as the financial aid staff at the college or university. Be cautious when relying on information you received from friends or others who have gone through the process. Never pay for financial aid help; talk directly to the schools.
What costs are listed in the financial aid award letter?
In your financial aid award letter, the cost of attendence (COA) is an overall number based on:
Tuition and fees: Cost and fees for attending the school.
Room and board: Cost for housing and meals on campus. Note that many schools offer a variety of meal plans at different price points.
Books and supplies: Estimated cost for all materials you will need for classes.
Transportation / personal expenses or miscellaneous: Not all schools include this estimate in the financial aid letter.
The COA is also the maximum amount of financial aid you could potentially receive. This is not the amount you will actually be charged to attend the school.
How much will I be charged to attend college?
To figure out what you are responsible for, ignore the loan section and start by determining your net cost:
COA – gift aid = your net cost
Your net cost is more important than the COA because this is the amount you are responsible for providing. Your net cost can be paid from a combination of cash, savings, income, loans (federal or private) and other self-help aid (such as work-study programs).
What is an appeal and when does your financial aid offer warrant one?
In some cases, there might be opportunities to appeal financial aid offers with colleges. For example, you could appeal an award package if your personal or family financial situation has recently changed and, as a result, you and your family are not able to make the contribution you had initially expected. Perhaps your parents' income dropped, you lost your part-time job, or your family's house was in the path of a natural disaster.
You could also appeal if you feel that the school is offering you less than it is offering other students in similar financial situations. Some schools may have an appeals process or forms available on the school's financial aid office website. If not, reach out to the financial aid office via phone or email to learn more about how to appeal your financial aid award package.
"The appeal process itself should be done in an orderly and professional manner. Be sure you can present a logical front with plenty of reasoning for your argument. Keep in mind that some schools have a no-change policy once an award package has been delivered, and any appeal will likely be unsuccessful," explains Richard Sorensen, president of Falcon Management Group, which runs TFS Scholarships.
In other cases, you might see a gap between award offers from two schools, particularly in offer components based on your merit as a student. Perhaps a larger merit scholarship is being offered by your second-choice school. You could reach out to the financial aid office at your first-choice school and tell them that you want to accept their offer of admission if they can match or come closer to the merit award offer from their competitor. "In my opinion, students should definitely appeal — financial aid offices don't like the word 'negotiate' — their financial aid package under certain circumstances," says Sorensen.
What if a new crisis affected your ability to pay for college?
If you're in a situation where you and your family need to make a new plan to pay for college because of a crisis, you're not alone.
If your financial circumstances have changed, your college's financial aid office may be able to help. Get in touch with them, and they may direct you to forms outlining your special circumstances or for filing an appeal. There may be other help available to you, too: Check out this guide to emergency financial resources for students.
Compare your financial aid award letters
In most cases, you'll want to compare the college financial aid offer from each school that accepts you before considering an appeal. The Get College Ready® Planning Guide from CollegeSTEPS has a free worksheet you can use to do this.
When comparing letters, first make a note of the total price of each school. Then look at how much assistance each one offers — and, more importantly, what forms of assistance each offers.
First, focus on grants and scholarships. These are sometimes called "gift aid." You usually don't need to repay gift aid, unless you do not complete requirements, such as finishing the term. As your financial aid award letters come in, you may notice there is a difference in gift aid — that's because not all schools receive the same funding (think private school versus public school). But certain grants, such as the Federal Pell Grant and certain state grants, are based solely on your Expected Family Contribution and thus won't change from school to school.
Here are some types of gift aid you may see:
Federal Pell Grant: A program that provides need-based grants to students, but the amounts are based on your Expected Family Contribution (EFC), the cost of attendance, your enrollment status (full time or part time), and whether you attend for a full academic year or less. Financial need is calculated using a standard formula to evaluate the information collected from your Free Application for Federal Student Aid (FAFSA).
State grant: All states offer grants based on financial need specified in your FAFSA.
University scholarship: Any scholarship provided directly from your college or university. Be sure to understand any requirements associated with the scholarship, as some require that you maintain a certain GPA.
Restricted scholarship: Includes any scholarships awarded to you based on meeting certain criteria — anything from your ethnicity to your geographic location or programs of study.
Second, review the self-help aid. Self-help aid requires some form of commitment from you, whether that is loan repayment or holding a job in the work-study program. Make sure you understand the details of your financing before you sign on the dotted line: This includes knowing what the loan covers, how much the interest and principal amounts are, and how much you'll have to pay monthly after you graduate.
Here are some types of loans or other self-help aid you may be able to receive:
Federal Perkins Loan: A low-interest loan with a fixed 5% interest rate. Your school acts as the lender, so repayments will go directly to the school. This is considered self-help; you will need to pay this back.
Federal Direct Subsidized Loan: Your school determines the loan amount, and the U.S. Department of Education pays the interest on the loan while you're in school and for six months after you leave school This is considered self-help; you will need to pay this back.
Federal Direct Unsubsidized Loan: Operates just like the Federal Direct Subsidized Loan, except you are responsible for paying the interest on this loan. Interest begins accruing as soon as the loan is activated. This is considered self-help; you will need to pay this back.
Federal Work-Study: Financial aid you earn by working during the academic year, typically through a part-time position on campus. Though this is considered self-help, you earn this money, so generally there is nothing to repay. Income from this job does not count against your financial award for the following year. It's important to note that work-study positions are not always guaranteed and can sometimes be first come, first served; be proactive in applying for a work-study position as soon as possible if you plan to take advantage of this self-help aid.
University Campus Loan: Any need-based loan directly from your college or university. This is considered self-help; you will need to pay this back.
Parent PLUS Loan: A federal loan available to parents of dependent undergraduate students. Parent PLUS loans have flexible loan limits. This is considered self-help; your parents will need to repay this.
Remember, self-help aid should be considered an expense (even if it's listed under financial aid). Although loans can help you pay for school now, they don't eliminate your costs. They just spread out those costs over time and add interest; you'll still need to pay the loans back after you graduate.
Third, do the math. To determine how much a college will actually cost you, subtract the amount of scholarships and grants from the total price. The remaining amount is what you need to cover through other means.
For instance, if School A's price is $40,000 per year, and the college offers you a $10,000 grant and $30,000 in loans, your entire need for the year will be covered. But this is a loan-heavy offer.
On the other hand, if School B's price is $50,000 a year, and they offer you $25,000 in grants and scholarships, $15,000 in loans, and $5,000 in a work-study program, you'll be responsible for coming up with $5,000 on your own or with your family for the year.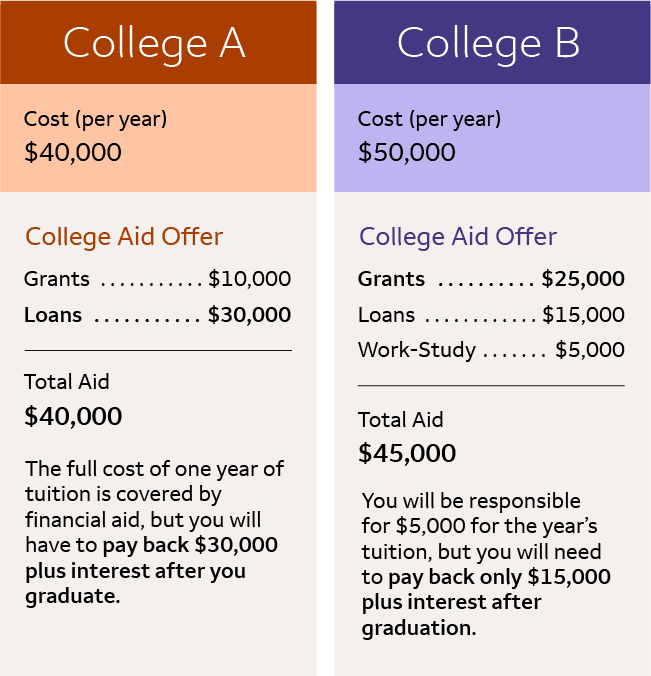 Which is the better offer? Even though School B is more expensive and leaves a $5,000 out-of-pocket cost, you'd be borrowing half as much in loans as you would with School A.
Evaluate the loan offers in financial aid letters
In both examples, loans are part of the solution to meet the student's financial need, but you may find other potential ways to reduce or eliminate the loan amount. You can get a part-time job (outside of work-study), search for additional scholarships, or try to reduce your college costs. If the gap between what you need and what you have is small, you might want to consider setting up a tuition payment plan with the school. Every year, every semester, ask yourself if there is a way to pay for college other than taking on debt.
If you take out loans to meet your financial need, it's critical that you understand specifically what to look for when comparing the loan options suggested in the financial aid award letters. Sometimes the title of each award is truncated, so be aware that "L" or "LN" may be used in place of the word "loan." Similarly, "sub" or "unsub" may be used in place of "subsidized" or "unsubsidized."
Look at whether the offer is for a federal student loan or if the school is suggesting that you or your parents take out a private loan. Federal loans typically have additional borrower benefits, such as deferment benefits, and more repayment options. Rates vary across both federal and private loan programs, so find the option that works best for you by talking to lenders as you are comparing your award letters.
You'll want to look at the length of each loan term (most offer a 10-year repayment plan) and the interest rate of each.
The higher the interest rate, the more you'll pay to borrow the money. You also want to find out if it's a fixed-rate loan (all federal student loans and some private student loans have fixed rates) or a variable-rate loan (some private student loans have variable rates).
Interest on fixed-rate loans won't change (hence, "fixed"), but be prepared for the interest on variable-rate loans to increase before you have finished repaying them.
You must always pay back loans. Ideally, your total student loan debt shouldn't exceed the salary you expect to earn in your first year of work after college. One way to estimate your potential salary is by taking a look at the U.S. Bureau of Labor Statistics website.
Take your time reading and considering your financial aid offer letters and weighing them along with the other information you've gathered. Sometimes even talking about your thoughts and feelings with helpful listeners — like your parents, friends, family members, or school counselor — could help you better clarify a preference that you already have. Make the right choice for yourself now and after graduation.
Need more tips on paying for college?
Break down the daunting task of paying for college by learning about all the financial aid, loan, and scholarship options available to you.