Experiencing college as an LGBTQ+ student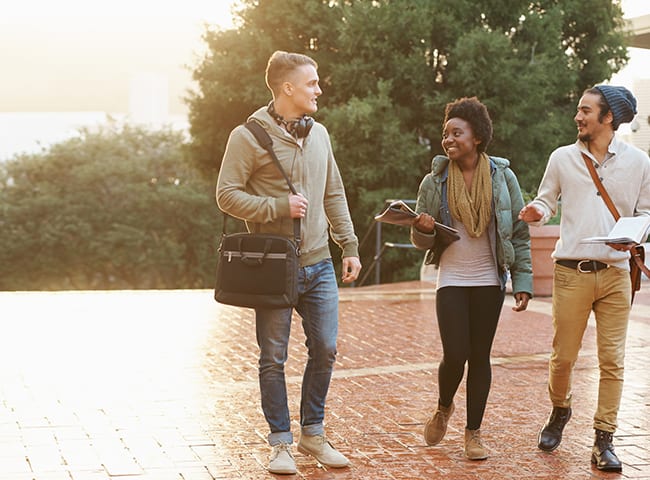 Three students share their thoughts about what it means to be LGBTQ+ on a college campus, and offer advice for others.
"Before you come to college, your exposure to the larger LGBTQ+ community may only be what you've seen on TV, in movies, or on social media — and that can be a very streamlined, narrow view of what it means to gay or queer or trans," shares Aiden Lee, Yale University Class of 2022. "But in college, you can really break down your identity. You'll find that there are so many ways to be involved in the LGBTQ+ community on campus — and it's not just one stereotypical or one traditional path." 
Meet three Point Foundation scholars
As Lee suggests, the experience of LGBTQ+ students is unique. For instance, Lee studies economics at Yale University. He feels that college is a sandbox where students can push their boundaries and try new things since the ground isn't as hard if you fall as it might be in the real world, for instance. That mentality has led him to take risks and put himself out there more frequently. He chose to pursue the Point Foundation Scholarship as a way to finance his own education, rather than having his mom dip into her retirement savings. 
Kyle Casteel is a policy studies and global and international studies major at Indiana University – Purdue University Indianapolis. He started his college career as a part of Point's Community College Scholarship Program before moving on to his four-year institution. Prior to finding the Point Foundation, he wasn't used to having people interested in what he wanted to do in the long run. He said that having people truly care about him was a big change in his life.   
Abigail Reed is a freshman at the University of South Florida and is majoring in environmental science and policy. Her passion for inclusive education has been the foundation of her advocacy work in Estero, Florida. Her biggest fear prior to her freshman year was being assigned a roommate who wasn't a part of the LGBTQ+ community or a strong ally. The concept of coming back from classes or studying every day to share space with someone who wasn't supportive of her identity led her to explore a living-learning community designed for LGBTQ+ students and allies. 
For LGBTQ+ students navigating college, the scholars shared a few suggestions for your journey:  
Explore life on campus for current LGBTQ+ students
"As a member of the LGBTQ+ community, you have specific needs that must be met by your campus, so you need to be proactive about your college experience," says Reed. "I reached out to the Pride Alliance before I was even a student to get a better sense of what campus was really like, if they felt welcome, if the resources available were adequate to meet their needs, etc."  
It's important to figure out early on what will make you feel comfortable on campus, and then search for a college that aligns with those needs. While this will be different for every student — start by thinking about the basics. Would you prefer to live with another student from within the community, or are you open to finding a strong ally instead? How do you hope to see things like nonbinary and gender-neutral spaces treated? Is having only binary-gendered bathrooms a deal-breaker? What about the use of students' pronouns in class — how are the professors being trained on these best practices? These are all things you want to explore and consider.  
"You should also get involved with as many clubs as possible," continues Reed. "It can be tempting to only focus on the clubs you plan to stick with all four years; but if you want to meet people and grow your support network, you should try as many clubs as possible knowing it is completely fine if you realize after the first meeting that it isn't the right fit."  
Lee adds to Reed's line of thinking when he says, "College offers the best of both worlds. For example, I'm involved with Queer & Asian, an intersectional group housed under the larger umbrella of the LGBTQ Co-Op. It's a unique balance of these smaller, niche organizations, where students can really carve out how they want to engage their identity — but, at the same time, have access to a larger group that spans all kinds of different people within the community."  
Many universities offer identity-based community centers or multicultural offices to support students within marginalized communities, including LGBTQ+ students, but make sure to ask if there are other opportunities available on campus above and beyond the traditional offerings. Some colleges, for example, have dedicated living-learning communities specifically for LGBTQ+ students and allies, while other campuses may offer safe zone trainings to help all students be better allies for their LGBTQ+ peers.   
Find and apply for identity-based scholarships
If you're not sure where to start when it comes to finding scholarships specifically for the LGBTQ+ community, the Point Foundation is an excellent place to start. They have been advocating for LGBTQ+ students for over 20 years and have a multitude of resources – including a section where you can ask questions of current Point Foundation scholars to get a first-person perspective on the application process.  
From there, you could check out a scholarship database for additional options. Tuition Funding Sources (TFS Scholarships), for instance, has over 7 million scholarships in their database and the Human Rights Campaign has a database dedicated to LGBTQ+ student scholarships.   
And using these resources to search for scholarship dollars is helpful whether you're planning to attend a four-year institution or a two-year community college. There are options and scholarships available for all college paths.   
As you build your application, Ted Farley, Deputy Executive Director of the Point Foundation, encourages students to "figure out and be able to articulate who you are as a leader in your community. What is your leadership or change philosophy — and how are you uniquely capable of making an impact in this universe as a result of who you are?"  
Since Point scholarships and others created for LGBTQ+ students are directly tied to who you are as a person, spend time thinking about your purpose, what has brought you to this point in your life, and how you hope to develop going forward. Crafting clear and concise responses will not only help you stand out to scholarship committees, but it can also form a basis for how you interact on campus, the clubs you choose to pursue, and the peers you turn to for support.  
Build a network of your mentors and advisors
While some students may already have a strong support network at home or in their current community, "Particularly for LGBTQ+ students who often have to chart their own course — it's important to know that it's okay to ask for help and advice from your professors, mentors, or advisors," says Casteel. "You don't have to do everything yourself. College is a dynamic process, especially for LGBTQ+ students because they are often navigating this new environment separate and apart from the supportive family structures or communities that other students might take for granted." 
The Point Foundation not only provides financial support for their scholars, but also gives students access to more than 400 program alumni — including a hand-selected mentor who is paired with each person based on their similar backgrounds and life experiences. Farley elaborated by sharing that, "Point offers a community of folks who know exactly what you have gone through, what you're going through, and what you're talking about — and not only do you get a community that's willing to listen, but they can help guide you down a pathway to success while celebrating one another in the moment." Not every scholarship program is identical to the Point Foundation program, but that doesn't mean that other LGBTQ+ students shouldn't seek out this type of support system from their campus community.  
Even if you already have people you rely on and trust, finding a similar support network on campus is important. So identify people who might be good mentors or allies — you can start by researching which professors or staff members are associated with LGBTQ+ initiatives around campus. If they aren't a member of the community themselves, they are likely strong allies and could be a good resource or support system. In addition, if you are able to leverage the faculty outside your area of study — there's an opportunity to interact with professors or staff members that you might not have come across otherwise, helping to expand your network beyond the professors you already see regularly. If for whatever reason you aren't comfortable reaching out to professors or staff members directly, or can't find any, the Office of Multicultural Affairs is always a great resource and can likely point you in the right direction.   
"I would say that being a part of the LGBTQ+ community is something of a shared experience. I am only where I am today, in part, because of the LGBTQ+ people who came before me, and I think a lot of people in the community feel that way, which is why we're all looking for a way to pass it on to future students," says Lee. "In high school, my identity was something I had trouble leaning in to — I was scared to lean in to," he continues. "But I would say, especially for college students, I promise there are people who will always be there to back you up if you lean in. Lean in to that part of your identity. Explore that part of your identity. Figure out what it means to you. Take that jump, and I promise someone will be there to catch you."