How to make the most of the summer before your college freshman year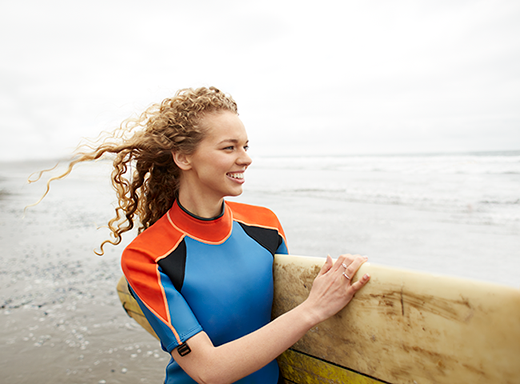 Don't let your education motivation melt away during summer break. Keep up your momentum as you head into your first semester with these tips.
The start of your time as a college freshman is years in the making. You've filled out applications and financial aid forms, beefed up your experience with extracurriculars, and maybe taken a few AP classes. With all the hard work you've done, be careful not to let opportunity melt away the summer before your freshman year.
Keep your motivation from melting away
In the higher education world, there's a term called "summer melt." This describes what happens when college-bound high school graduates never actually start learning at the colleges where they've been accepted.
Summer melt is more common than you might think, affecting anywhere from 10–20% of incoming college freshmen. Why does it happen? There can be a lot of reasons: missed deadlines to send paperwork, late payments, a family setback, or lack of support a student was counting on to finish the last lap of their journey to college.
Dr. Yarbrah Peeples, senior regional director east for the Programs team of the College Advising Corps — which helps low-income and underrepresented students get to and complete college — explains that there is a "trail of deposits" students have to make: securing their admission, housing deposits, orientation fees, and transition costs. All these occur before school starts.
"Students may have to come up with several thousand dollars before the first day of school, even if they have a full ride," says Dr. Peeples.
This can be overwhelming for most students, but being prepared and having a plan for your transition to college can help you feel more confident.
Low-income and first-generation students feel the impacts most
In low-income families, college-bound students are especially vulnerable to these financial causes of not making it to college.
And there are other things making it hard for low-income and first-generation students to get from the end of high school to the start of college. A lack of role models, of other friends attending college, or of community and financial support can be major hurdles to overcome.
"Students need strong family support instead of doubt from their families," says Dr. Peeples. But when students are the first in their family to go to college, their parents or guardians often don't have all the answers. This can make the college application and transition process even more confusing. If a student works to contribute to the family's household expenses, they may even feel selfish for leaving.
Studies show that students who delay enrollment are less likely to graduate than those who start at a four-year college right after high school. For low-income and first-in-family college students, delaying college can mean missing opportunities to ever get their college degree and secure a better future for themselves and their families.
Are you a high school counselor?
Get free college planning resources to help you assist your students in their journey to college.
Bridge the gap during summer
Dr. Peeples sees the problem ultimately as a gap in communication. K–12 schools and higher education institutions don't speak to each other, and some high school graduates fall through the cracks without support from either their now former high school or their future college.
Fortunately, there are ways to combat this, and programs across the country have already seen success. For example, Georgia State University (GSU) designed a chatbot to help students get through important tasks before their freshman year, tracking their progress and sending customized messages to students. This program helped increase the number of accepted students who arrived as GSU college freshmen by 22%.
Dr. Peeples has even seen college advisors work with high schools to rent vans to get students moved into college, and high school advisors step up to the role parents and guardians often play, using their expertise to help guide students through the final steps of the college application process.
She has some further ideas for getting more accepted students to college, too.
For high schools and counselors, it could be setting up a webinar and a senior year checklist to help families know what to expect.
Colleges can have certain days where they keep phone lines open late for families to talk to a real person.
For students and families, it can be helpful to organize groups to share information, like when immunization forms need to be turned in or which dorm is best for certain majors.
The most important thing, though, is just picking up the phone. Parents and students can call colleges, high school counselors can call students — communication is key to helping students make it to college.