A step-by-step guide to creating your profile on the scholarship database TFS Scholarships
When it comes to searching for scholarships, you may find yourself asking: Where do I even start? How can I find scholarships for someone like me? Where can I find help?
Luckily, Tuition Funding Sources (TFS Scholarships) has you covered, free of charge. This scholarship database has more than 7 million scholarships to search and apply for, totaling over $41 billion in funds to award. Using a scholarship aggregator like TFS Scholarships is super easy and helps you easily narrow down a list of scholarships you're actually eligible for: no need to sift through awards you can't apply to.
To show you just how easy and convenient searching for scholarships with TFS can be, we're going to walk you through the process.
Step 1: Register
The registration process is quick, so you can start searching almost immediately. Simply get started by filling out the indicated fields, like your name, email address, and home address.
From there, you're ready to start your search.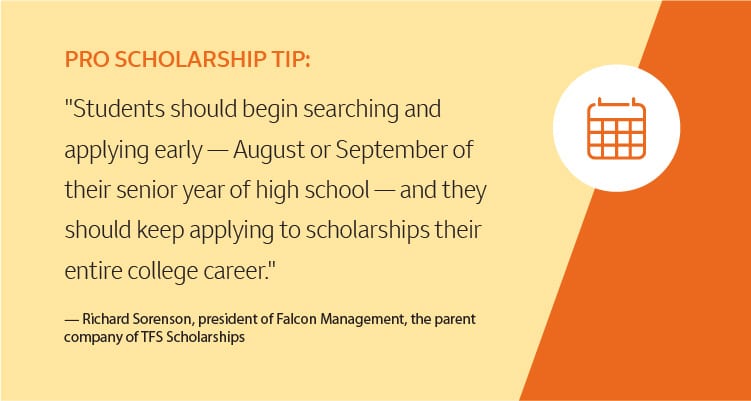 Step 2: Fill out your scholarship profile
You can start searching right after you finish step 1, but TFS Scholarships encourages you to complete your personal scholarship profile, too.
Each question is tailored to better enhance your scholarship search. Everything about you — your nationality/heritage, disabilities you may have, your home life, career goals, and more — will help TFS gather results specific to you.
Step 3: Academic history
This next step asks for your academic history. Your GPA and test scores can greatly increase your scholarship possibilities, so make sure to list accurate information. Your current or intended major can also qualify you for specific scholarships.
At this point, you'll also be prompted to list any and all colleges you're interested in attending, because there may be scholarships specific to the colleges themselves.
Step 4: Academic involvement
Part two of the academic information step lets you input your community involvement activities, including any family military affiliation, membership in any organizations, and participation in extracurricular activities. Be sure to include community organizations that your parents participate in, as there are often scholarships for members' children.
Step 5: Scholarship results
Now you've landed on your personal scholarship results page. Look through all the possible scholarships available to you and click on individual results for more information. Your results will include a description of the scholarship, eligibility requirements, award amount, number of awards available to students, and a scholarship application deadline. You can even bookmark scholarships of interest to save for future reference.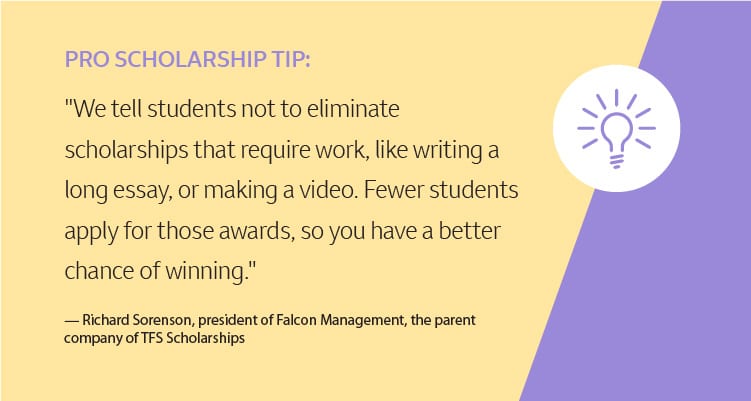 Repeat your search process by selecting the different schools and majors that you are considering to create your personal scholarship list.
When you're ready to apply, you'll be directed to the scholarships' website, outside of TFS Scholarships. And, check out this video from real scholarship recipients to learn more helpful tips.
Finally, remember to apply early and often. Happy hunting with your tuition funding search!
Find and apply to scholarships on TFS Scholarships — you'll have access to more than 7 million!