What you need to know about spending — and saving! — your first paycheck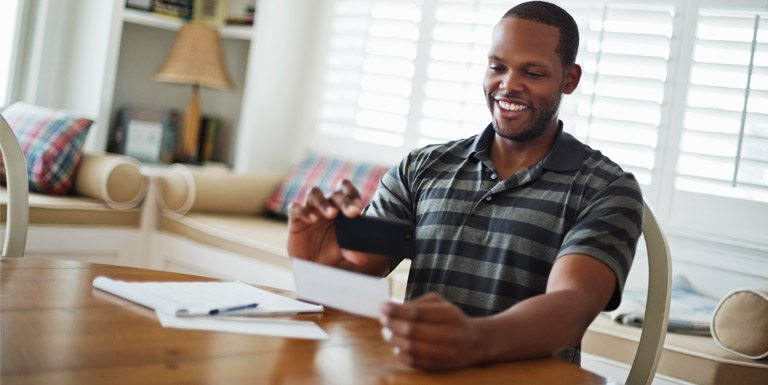 It can be tempting to treat yourself once you start working. Find out what you need to know before cashing in.
Getting your first paycheck can be exciting and empowering — you're finally earning your own money. And while you may want to treat yourself on payday (who doesn't?), expenses can add up. You want to be smart with your spending — and saving.
Here are five actions to consider taking with your first paycheck — and some to take every paycheck.
1. Set up direct deposit
Gone are the days of paper paychecks thanks to Direct Deposit. Direct deposit is super convenient, safe, and a faster way to have your paycheck deposited into your account. Plus, you'll have immediate access to your money. You won't need to worry about checks getting lost, delayed, or stolen. All you need is your account number and routing number to set up direct deposit.
2. Create a budget
One good financial habit is to set a spending plan. If you're a Wells Fargo customer, tools like My Money Map can help you create a spending report, so you know if you're overspending in a particular category like eating out. You can also set up a budget watch, which can help you create a personalized budget to track spending, set monthly spending goals, and stay in control of everyday finances. Don't know where to start?  We've created a college budget worksheet to get you started. With a little upfront work to put these tools into place, you'll quickly see where your money is going each month (and be able to course-correct if you're overspending somewhere).
3. Make a savings plan
Paying day-to-day bills and covering your college expenses might take up a decent chunk of your paycheck, but you'll also want to consider setting up a savings plan for some of the money you have left over to help meet short- and long-term goals.
Make it easy on yourself by having 5% to 10% of your paycheck automatically deposited into a savings account. You can also set up an automatic transfer1 in your online banking portal if your Direct Deposit only sends money to your checking account. This will come in handy if you have any last-minute emergencies (like car repairs) or other expenses.
4. Know how overdrafts work
Whether you have a part-time job or are working closer to full time during school breaks, it may be easy to assume there will always be money in your account to spend. But it's easier than you think to overdraw your account, which can quickly result in unwanted fees.
Wells Fargo has something called Overdraft Rewind®, which is offered automatically with your checking account when your Direct Deposit is set up, so you don't even need to enroll. When the bank receives your direct deposit by 9 a.m. local time, they will include this amount in a reevaluation of the prior business day's transactions and waive or refund fees.2 So, in other words, if you overdraft on the 14th but get paid on the 15th, Overdraft Rewind may help cover you.
5. Learn about investing choices3
Putting some of that hard-earned money into a retirement plan such as an IRA (Individual Retirement Account) may also be worth a closer look. An IRA can be appealing, especially if your parents or grandparents want to help you start saving for retirement even before you've graduated from college. And it can be a great practice for after graduation when you have access to a workplace retirement plan, like a 401(k) or pension, or have gig income you're investing for the future. A financial advisor4 can help explain what investment options can help you get on the right track to reach your near- and long-term goals.
One thing that's a "must-do" with your first paycheck? Set up direct deposit.