Steps you can take to help protect yourself and stay afloat.
It happens to just about everyone: you can't find your wallet. You know you used it yesterday afternoon at the bookstore, but now you're searching high and low, and it's nowhere to be found.
Your credit cards. Your cash. Your ID. They were all there, and it's hard to get by without them. The good news is there are steps you can take to try to find your wallet, plus help protect yourself from fraud. There are also new ways to get by if you need to make do until your bank can send you replacement cards.
Step 1: Clean, then retrace your steps
First, make sure your wallet isn't just misplaced or under a pizza box (no judgement). Sort through your piles and check your pants or jacket pockets if you haven't done that already. Then make a list of where you were during the day or night before, when you last remember having your wallet. Call friends and any restaurants or other spots you visited to see if perhaps your wallet just slipped out of your pocket and got left behind. If you were in a car, check under the seats or in the glove compartment.
Step 2: Accept reality and get online
If it turns out your wallet is really lost, you will want to quickly take care of the situation, so you can limit the damage. Start by making a list of the debit and credit cards you had in your wallet.
If you have online accounts set up to manage your credit cards, log in to check if there are charges showing up as pending that you don't recognize. If you do notice any unauthorized purchases, move to step three and immediately bring them to the attention of your bank and the credit card companies.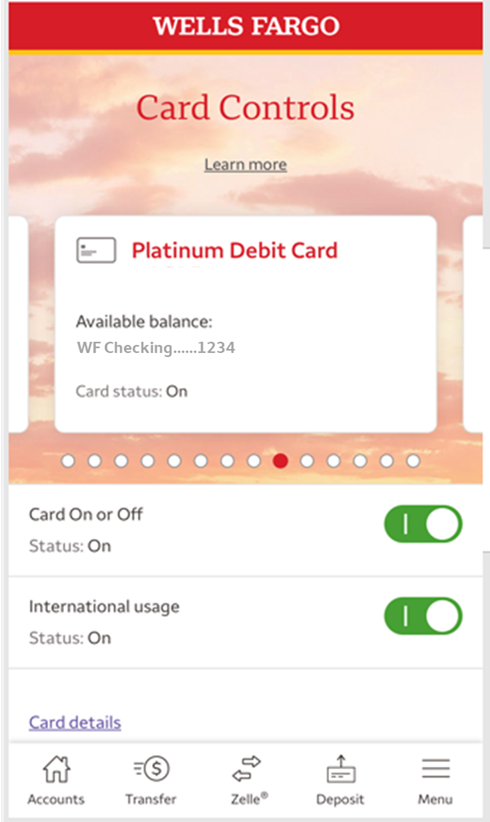 Screen images simulated
A note about your Wells Fargo Debit and Credit Cards: Take advantage of the ability to turn your debit or credit card "off." Wells Fargo Online® and Wells Fargo Mobile® app banking customers can go to the main menu and select "Cards." Use the cursor or tap "Turn Card On or Off" in the menu to turn a card off or on.1
Step 3: Hit the phones 
Refer to your list of lost cards and start looking up customer service numbers on the financial institutions' websites. Start calling, and make sure to report the cards as lost or stolen as opposed to cancelling the cards. It's a common occurrence, and the credit card companies know how to help you. If there are suspicious pending charges, tell them.
Step 4: Help protect your identity, too
In addition to reporting your cards as lost or stolen, it's worth calling the three major consumer credit reporting agencies — Equifax, Experian, and TransUnion. You can put a security freeze in place so that no new accounts can be created in your name without your consent. A fraud alert can help, too. Follow one of these links to set one up:
Hopefully, your Social Security card wasn't in your wallet, but if it was, you'll want to potentially take action on that front as well. You'll also want to replace your student ID and make sure any money that may be associated with it (a meal plan, etc.) gets transferred and deactivated from your old one. Cancel and replace any insurance cards and loyalty cards as well. And don't forget to contact or head over to the DMV to replace your license or non-driver state ID.
Wells Fargo has provided these links for your convenience but does not control or endorse the websites and is not responsible for the content, links, privacy policy, or security policy of the website.
Step 5: Keep living
Just because you might be living wallet-free for a few days doesn't mean you can't keep living your life. While you wait for replacement credit cards and a new debit card, you can access your money from your Wells Fargo checking account card-free by using a digital wallet option.2
While a lost wallet is a pain and certainly something you need to take care of, don't let it stop you from leading your life.
Lost your Wells Fargo debit card? Learn how to turn it off while you look for it (or order a new one!).