Here are five tips to help in your scholarship search.
Though you may not know where you're going to college until your senior year, there are things you may be able to do to get your college finances in order before your acceptance letter arrives. One of these things is applying for scholarships.
"It's a misconception that you should wait until your senior year to get scholarships," says Eric Beeler, a 2018 graduate of George Washington University, who fully funded his education with scholarships. "You can apply for the biggest and most competitive scholarships at the same time or before you apply to college. Scholarship application processes normally take over a year."
With a little diligence and insight, you can ease into paying college tuition by searching and applying for scholarships and grants — money that typically doesn't have to be paid back. Start with these five tips on searching for scholarships, even before you submit your college applications:
1. Reach out to your counselor
Your high school counselors are there to help you. They likely have resources on hand or access to services to help you in your scholarship search. If you've never talked to your school counselor, now is the time to introduce yourself.
2. Research scholarships at your top schools
Whether you're looking in or out of state, there are likely a few schools that have piqued your interest. If so, visit those schools' websites or call the financial aid office for scholarship and grant information, including qualifications, deadline dates, and how to apply.
Just remember: Applying for scholarships and applying for admission are not the same thing, nor are they part of the same process. In many cases, they don't even have the same deadlines. Be mindful of those deadlines, and keep a running list to stay on top of it all.
"When I was in high school, I used just a spreadsheet to keep track of every scholarship I applied for," says Estefania Contreras, a 2018 graduate from UC Berkeley, who fully funded her education with scholarships. "I think keeping track of where you are and also knowing your deadlines is a really great way to make sure you're applying not only to as many scholarships as you can but as efficiently as possible."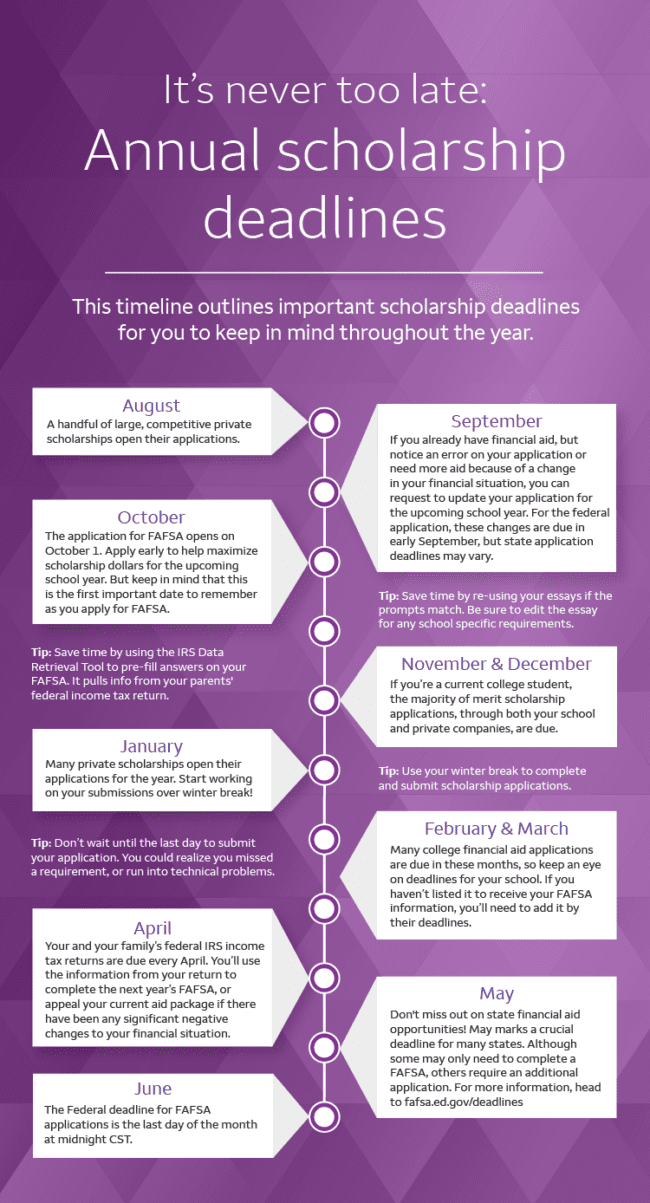 3. Go online
Make the internet your scholarship-searching friend. The internet is also a great source for additional searches, such as registering for TFS Scholarships for access to over 7 million scholarships and other helpful scholarship search sites.
4. Take advantage of your social network
You may be surprised at the different organizations around you that offer scholarships. For example, do you belong to a church group? Are you part of a national club? Are there options through your parents' employer? Are you or your relatives members of national clubs or civic groups? These types of organizations may be able to offer you money for college.
"In high school, I had counselors help me look for scholarships, and then I was also in the North Carolina Upward Bound program," says Jonasha Green, a college senior at North Carolina A&T State University. Green says these local connections were invaluable for sourcing scholarship opportunities — she ended up applying to approximately 75 scholarships and won about 30.
Find out more about these types of organizations within your community and whether you qualify. As extra incentive, local scholarship opportunities may be less competitive, which means you may stand a better chance of receiving their financial aid.
5. Know how to avoid offers that are too good to be true
When it comes to scholarship searches, you should never have to pay to investigate for more information. So if you run into any source that offers "free" seminars and then pushes you to pay for more details, don't do it — it's likely a scholarship scam.
For more tips and ideas on finding scholarships and grants, watch our video of advice from real scholarship winners.
A good place to start your scholarship search is through TFS, which has free access to over 7 million scholarships.