15 tips for starting a business in college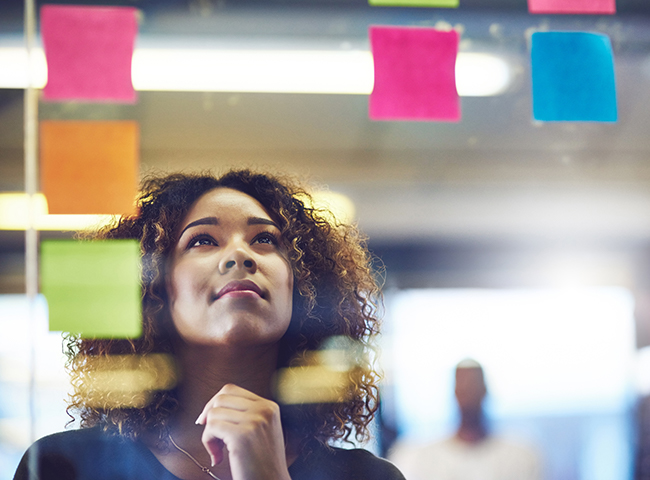 You've got a great idea. Now, you need the world to know about it. These college entrepreneurs offer tips to help you get your business off the ground.
Starting a business in college is a great way to invest in yourself, your career, and — yes — your income. You've already got lots of things going for you: College students generally have more free time than graduates in the working world, have access to a wealth of campus resources, and are constantly surrounded by other bright, creative minds. This makes for a perfect place to start your own business. Don't know where to get started? These six student-preneurs share their top tips to make your business a success in school and beyond.
Getting started
1. Love what you do, even when it's tough
All of the entrepreneurs agree that this is one of the most important aspects of launching your own company. Being authentically passionate about your business and its mission will keep you motivated through the late nights and hard days, give you a purpose beyond the financial outcome, and help you get others — friends, family, investors, anyone — as excited about it as you are. "You have one life. There are so many opportunities out there — you can and should pick something you're truly passionate about," says Samuel Spitz, CEO of Wearloom.
2. Start slow and small
"Be realistic in what you can offer and promise as a new business," says Amanda Grace, founder of the October Country Club. When you're balancing schoolwork, your business, and
extracurriculars
, you'll need time to adjust to the responsibilities of your new venture. Consider offering a pared-down supply of your offerings in the beginning before growing into something bigger. This way, you can focus on what works and what doesn't, and build up your experience.
3. Focus on these three things
When you're ready to start a business but don't know exactly what your niche should be,
freelancer
and blogger Crosby Melendi suggests focusing on the following:
Your strengths. What are you naturally good at? What are you studying in school? What do other people say you're good at?
Your passions. What do you enjoy doing? Melendi warns that burnout will happen much more quickly if you don't enjoy the work that goes into your business.
The market demand. Is your business idea something that other people are interested in? No matter how skilled or passionate you are about something, you won't be able to make money if no one buys what you offer.
The sweet spot for a business, says Melendi, is finding something that ties these three things together.
4. Fulfill a need
Now's the time to use those critical thinking skills you're learning in college. What gap can you fill with your business? For Tyler Graham, co-founder of Cape Fear Boil Company, it was meeting the needs of large families vacationing at the beach who couldn't eat together at restaurants because of their large group size. He provides catering to those families and tourists who want fresh seafood and a fun dining experience in the comfort of their homes and vacation rentals. Spitz started Wearloom because he was frustrated by having to use several different resale platforms to avoid paying retail price and to avoid creating more landfill waste. For Grace and the October Country Club, it was as simple as offering fall-themed items year-round. When you identify a need you can satisfy for your customers, write it down in your business plan. (Don't know how to create one?
Start here
.)
5. Find your brand's biggest supporters through networking
Networking
can lead to new connections and exciting prospects. Start with your school's career center. Chances are, they can connect you with alumni who have also started similar businesses. Ask your professors, friends, and family for their insights, too. Susie Moore, founder and CEO of Moore Strategies, has found that most people want to help. She suggests reaching out to anyone you know, and anyone
they
know, if you need advice or guidance. Meg Jay, psychologist and author of "The Defining Decade," emphasizes the importance of "
weak ties
," or people you
sort-of
know, like friends of friends of friends. It's OK to reach out to your dad's best friend's daughter's cousin; when there's some kind of connection, says Moore, and you specifically ask for help, people will often be happy to oblige.
6. Understand the work involved
"Find something you love, and you'll never work a day in your life" is a saying that doesn't always ring true.
Pursuing your passion
still involves long hours and hard work, especially if you're working around classes and homework. Sometimes, when you're starting a business on a small budget, you'll have to invest your time and effort in it rather than cash. It's a labor of love — emphasis on "labor."
Managing your money
7. Look at several funding sources
Starting a business usually means you'll have to spend money before you make money. A website subscription and domain name, social media ads, specialized equipment, and legally naming and registering the business are all things the entrepreneurs needed to pay for when they started out. Fortunately for you, there are several ways to find startup funding.
Graham used money from his job giving surfing lessons to help pay for his storefront.
Moore used savings she already had.
Grace used the money she would have spent traveling and going out during the pandemic to cover startup costs.
Akia Barnes, creator of Sweetie Girl Slimes & Scrubs, borrowed money from her parents.*
Spitz found an investor in entrepreneur Jason Calacanis.
The type of business you're in will determine what kinds of costs you'll need to cover upfront. Do your research to find ways to pay without taking out loans or going into
credit card debt
. * Barnes will eventually have to pay her investors back, but she was able to avoid covering her startup costs with high-interest loans.
8. Take advantage of free or discounted resources
Whether you're crashing at your parents' place or
renting campus camera equipment
, free or discounted stuff is great when you're just starting out. The U.S. Small Business Association even has
no-cost guides
for every step of entrepreneurship, from planning to growing your business. Spitz, who learned to code for Wearloom with free coding classes, explains that you can keep your starting costs low if you look hard enough for resources. This is especially true if you're starting a digital-only business like Wearloom, but if you sell physical products, your startup costs may be higher. You can keep costs low in the beginning by offering one or a few products to start, and then adding more after your business grows.
9. Budget for your expenses
Building a budget
is the cornerstone for your personal expenses, and a budget for your business is no different. Start off by tracking all of your expenses — where is your money going? What's the market value for your materials? Then, set up categories for spending and saving, and stick to the plan. Don't forget to
save for business emergencies
!
10. Figure out your needs and wants
Both Barnes and Spitz say that entrepreneurship has made them much more money conscious. They ask, "Is it worth it for me to spend my money on this?" Your needs are essential purchases for you and your business (think: groceries and your website subscription). Your wants are things you could live without. Know the difference between them, and spend accordingly. After all, Barnes says, "Money runs out."
11. Understand taxes
Taxes may not be the first thing that come to mind amid the excitement of starting a business in college, but it's still an important thing to consider. Our entrepreneurs have some tips for
tax time
:
Consider investing in accounting software if you're not an accounting whiz to make that part easier.
Pay taxes quarterly. The IRS considers freelancers to be self-employed and generally requires them to file an annual tax return and pay taxes each quarter.
Save some money to pay your taxes, whenever you pay them.
Track all tax-deductible business expenses in a spreadsheet. Examples include a computer dedicated only to your business or mileage you drive to make deliveries.
12. Don't panic!
It's OK if you don't end up in the green in the first few months of running your business — just keep trying. Breaking even or even losing money is typical for many new businesses, and that's not a bad thing. You will learn lessons about what works best for your business, and you may not have to pay taxes if you don't make any business income. (You're only taxed on your business income after expenses.) Spitz says that he had many ventures that failed before Wearloom, but he learned a lot from those experiences. "I think the key is repetition. The more time you spend working on building things, the more you learn about yourself and about what it takes to build something successfully."
Running your business
13. Work with great people
Teamwork truly makes the dream work, so pick your team carefully. From a business perspective, Spitz says, "I think you will win or lose based off who you work with. Your co-founders and your first few employees will define the culture of your company." It's important to work with people who are also interested in and excited about your idea. And when they do great work for you, pay them what they're worth. Plus, working well with others makes the job more enjoyable. "I don't think it would have been as fun without a team of other consultants working alongside with me," says Moore.
14. Master time management
Classes, coursework, and clubs take up a lot of time already. Throw in "starting a business while in college," and you've got a
very
full schedule. But doing it all can be done! Dedicate times for homework and business work, and avoid multitasking on the two.
Batch working
, or working on similar tasks together, can boost your productivity and save time, and Melendi credits some of her success to this time management method. Prioritize your tasks, and know that it's OK to say no to things that don't serve you.
15. Have a productive work/life balance
Grace recalled a meme she saw recently that said, "I didn't want to work 9 to 5 … so now I work 24/7." Burnout can be a real thing when it feels like you're always "on." Each of the entrepreneurs recommend taking time for yourself, away from classes and schoolwork. Set hours when you're willing to work, and be disciplined when it's time to log off. When you do feel the exhaustion, think back to why you started and remember the passion you have for your business.
---
No matter where you are on your entrepreneurship journey, keep looking forward. Moore offers some encouragement: "Anyone who is thinking about starting a business should be very proud of the work that they've put in so far, because it takes a lot of strength and bravery to go off on your own. If you've started, you're already successful."
Manage your money, better
Students with a Wells Fargo checking account have access to online money management tools, alert options, and payment features.