Questions you're searching: What should I bring to open a bank account?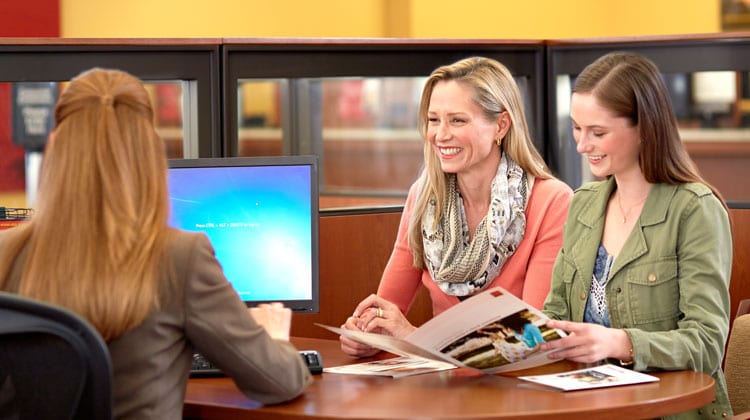 Before you head to the bank, make sure you have the items listed below. And check out some FAQs about opening and using your first bank account.
Maybe you're looking to get your finances in shape for the summer or hoping to be more financially independent as you head to college this fall — or both. No matter the reason, opening a bank account now could be a smart move because it can help you more easily track and manage your money and grow your savings.
Another perk? Whenever the need arises, you can quickly pay someone back or vice versa: Participating banks, including Wells Fargo, let you send and receive money in minutes with Zelle®, a digital payment network.1
Here's how to get started: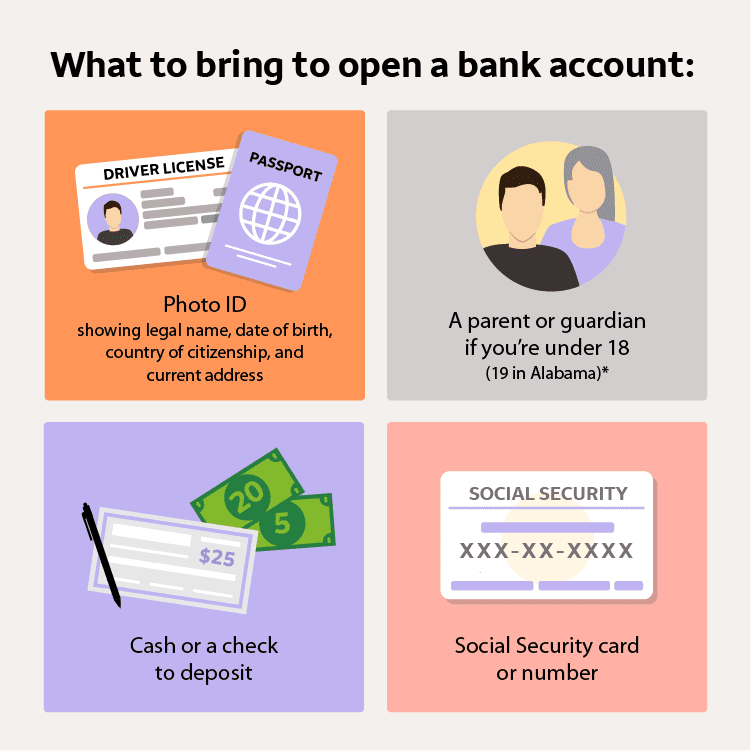 What do I need to bring with me to open a bank account?
When opening a bank account, you should bring the following items with you:
A valid and current photo ID, such as a driver's license, state ID card, or passport. This should show your legal name, date of birth, country of citizenship, and current address. (If your current address is different from the one on your ID, a utility bill with the new address is required.)

If you do not have either a photo ID or passport, check with your bank to see what your options are.

A Social Security card or number
A parent or guardian if you're under age 18 (19 in Alabama)

Some banks allow you to open an account alone if you're younger than 18, so check with your financial institution to see what its policies are.

Cash or a check to deposit into your new account
What type of bank account should I open?
It depends. Do you need to pay rent, car payments, or other bills? Then a checking account may be best. You can choose to get a debit card, which lets you make purchases using the money from your checking account. You can also use a debit card to withdraw cash from an ATM.
If you're not making payments — you just want a place to keep your money and earn a little interest — a savings account may meet your needs. You can get an ATM card to have access to cash from your savings account at an ATM.
Want to do all of the above? Consider opening both a checking and a savings account. Opening both at the same bank and linking them could give you the convenience of easily transferring money between accounts,2 and some banks may even offer some perks for opening both a savings and a checking account. Also check to see which account may have a special benefit for students, such as waiving the monthly service fee, which Wells Fargo and many banks offer.
Do I need to make a minimum deposit in my account?
Yes, many banks require a minimum deposit to open an account. Wells Fargo requires a minimum deposit of $25 to open an account. Be sure to bring cash or a check with you so you'll be able to deposit money into your new account. You also need to confirm whether there are any service fees that could be avoided by maintaining a certain balance in your bank account or meeting other criteria.
What happens if I withdraw more than I have in my account?
If you spend more than you have, you may be charged a fee for having a negative balance (known as an overdraft charge). That's why it's important to get into the habit of reviewing your accounts daily. Another way to help avoid that happening is setting up low balance alerts3 so you get a text or email when your account balance dips below a certain amount.
Many banks also offer optional overdraft protection services. With overdraft protection, you can link your checking account to another account, such as a savings account, so that overdrafts incurred on your checking account are covered by the available funds in the linked account. You may be charged a fee for the overdraft protection transfer, but it is usually lower than the bank's standard overdraft fee.
Wells Fargo and many banks also offer accounts with no overdraft or insufficient funds fees that may limit check writing and/or allowing an overdraft to occur. Talk to a banker when you open the account; they can discuss the fees tied with your account and options you have to avoid them.
Will my parents be able to see how I spend and save my money?
It depends. If you're under the age of majority in your state, many states and financial institutions require parents or guardians to act as co-owners, which means they have access to your account transactions and your money. (There are exceptions, though, so be sure to check with your financial institution to see what its policies are.)
The upside to having your parents or guardians on your account? They can help you keep track of your balances and identify when you need to make deposits. If you are 18 or older and parents or guardians are not included on your account, they can't see how your money is spent or saved.
What else can I do with my bank account?
Once you open an account, familiarize yourself with it by logging in with mobile banking and checking on your money. You can also use no-fee online tools, such as apps or personal finance websites, to help you track your spending.
When you monitor your bank accounts, it becomes easier to see spending patterns — and where you may be falling short. For example, Wells Fargo offers My Money Map, which can help you track your finances. Then, you can try putting goals in place and create a budget with this worksheet to help save more money.
How else can we help?
Connect with a banker to make sure you have the accounts you need in college and beyond.